Are you struggling to find the best microwave under $100? If yes, you land on the right article. At this low cost, you do not need to sacrifice the performance and this will save your kitchen space as well.
Not every microwave performs equally and has the same power and capacity but that does not mean you have to break your budget. From reheating, making frozen food, and making food from scratch these microwaves can perform all kinds of basic kitchen tasks.
Still, you have questions in your mind; What kind of feature we should look for? Which factor is important while buying the microwave? Here you will find all the answers which you have in your mind.
So, let's get started
Features:
If you have some space problems in the kitchen then you can purchase this stainless steel microwave with close eyes.
The first and very interesting feature of this microwave, it comes with a 0.7 ft. inner capacity but trust me it can take in your large plates and bowls.
It also has a clock and kitchen timer that can make your kitchen task easy. You can set a timer in the microwave and meanwhile you can cook your other stuff like veggies, pasta, etc. It also has a push button that gives you handle a free experience.
It also has a control pad on the right side of the front and an LED display gives you a good night view feeling. 
Good for small kitchen space (Does not take much space)

It can take in large plates and bowls.

Budget-friendly

Easy to use & control
Catches finger print, needs to clean frequently.

Plastic door clips.
Features:
The next microwave on our list is from a very famous brand name Comfee (you have heard this name before), is budget-friendly and offers you lots of good features. 
Just like it has 11 power variables settings and this compact microwave works on 700 watts. 
One of my favorite feature of this microwave is power-saving when you are in the ECO mode it turns off the display automatically and minimizes 50% of standby power. Ultimately, this microwave saves your money as well as your electricity bills. 
This model also has an option muting the loud sound of beep to quiet down till you take your food out of the microwave. 
For your child and pet safety, it has a child safety lock and auto cook function for reheating the food with less preparation and time. 
One big disadvantage of this compact model is, it has only a 10-inches turntable which can't adjust the large plates and bowls. You can use small quintiles of stuff into this. 
Some additional feature of this microwave is a kitchen timer, express cooking, clock functions, etc. 
Also Read: 5 Best Microwave Ovens Under $50 (Cheap)
Adjustable 10 power settings.

It has eco power saving mode

Child Lock Safety

Easy to control
A little slow in heating the food.

Hard to press the button.
Features:
This is a small size but powerful microwave under $100 in the market. If you are looking for a microwave for basic stuff like reheating, defrosting, or not overcooking the food this is the perfect model for your kitchen.
Commercial Chef CHM770B is available in 900 watts which is known to do things quickly but you can also purchase this machine in 700 watts as well. 
This small-size microwave is a good option for small families and small apartments. With its small size, it's also lightweight which means you can carry this machine from one place to another easily. 
6 quick cooks and 10 cooking power levels of this microwave will make your cooking flexible. 
One function you will get in all the microwaves in this range but in this model that function is missing- a 30-second button. Apart from this, this microwave shines in every feature. 
Heat the food quickly and evenly.

Need less space to install.

Six pre-programmed Recipes.

Light Weight.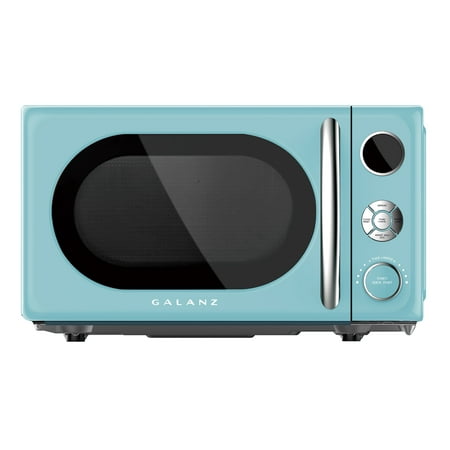 Features:
This retro-style microwave under $100 is the best choice for a small kitchen. It has an interior light that will give you the status of your recipe inside the microwave without opening it. 
Six power levels and a child lock will keep your child safe. Galanz GLCMKA07BER-07 has a beautiful LED display that is very easy to read and shows the remaining cooking time. 
Also, when your cooking set timer is over, it will give you an indication with three beeps. 360* turnable and heating glass cook the food evenly and improve the cooking performance. 
It has a 700-watt capacity which is fine for small kitchen appliances that can handle reheating things easily. This microwave is budget-friendly and easy to use for anyone.
Also Read: Are Wooden Spoons Better Than Metal?

Multiple color option and retro style design.
Space saving microwave (recommanded for small kitchen).
Easy to use control.
Easy to clean and smooth defrosting.
Door hooks are made of plastic that can break easily.
Can't accomodate plates over 10 inches.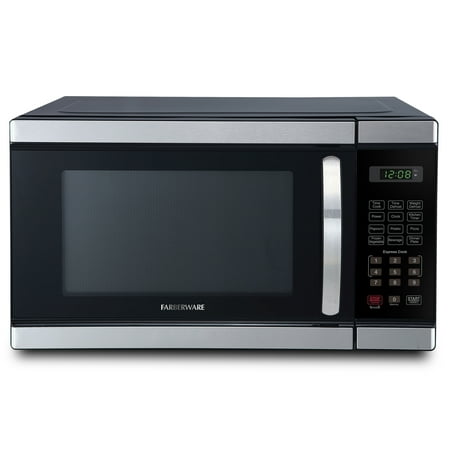 Features:
Feberware classic 1.1 cubic microwave oven is the highest-rated microwave that gives style and complement to your kitchen. This has 1000 watts of power and a 1.2 cu cavity that is enough to accommodate the large plates and bowls. 
This microwave offers 10 levels of multiple-stage cooking and 6 cooking programs in one touch i.e. popcorn, potato, pizza, dinner plate, defrost the veggies, etc. 
Farberwave offers in this microwave an easy-to-use digital interface with an express cooking button, add 30 seconds control or weight based defrost control. 
Powerful 1000-watt output can heat your food in the shortest time possible. LED display will help you to keep time checking from a distance as well. This is the best microwave for home and office use. 
Easy to control and clean.
It can easily fit large fit over 10 inches.
Noise level is not irritating.
Defrost and re-heat quickly.
Sometimes oven side heat up.
Used dark glass that reduce the visibility.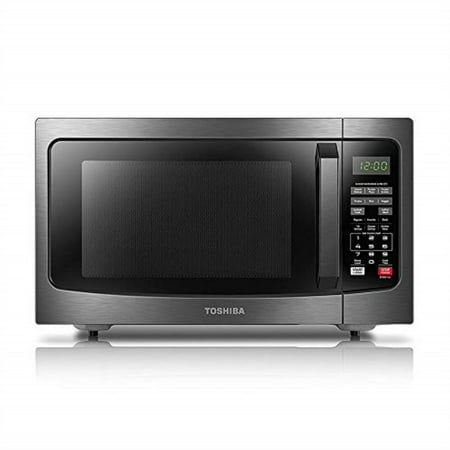 Features:
Toshiba company's usually offer the most affordable and low cost microwave oven with amazing performence. 
You will see some awesome feature in this machine and you won't find in another model in the same price range. It has door handle which is easy to open and easy to clean then the button style microwaves. 
This model is perfect for small families or office because it has a 0.9 ft. cu. capacity which is enough to serve 3-5 people. 
You can mute this microwave (I like this feature the most), you can reheat you snack in the midnight without disturbing any other family member. Look of this microwave is very attractive with full stainless front finish. 
You can adjust 10 power level setting according to the requirement of your recipes. With one touch you can turn on the heating power at 100% in 1 minutes to 6 minutes. 
Also Read: Which Cutting Board is Best Wood or Plastic?

Attracitve stainess design.
Sound turn off option.
Comes with smart sensor for smart cooking.
6 pre-programmed menus.
Heating take time.
A little oversized.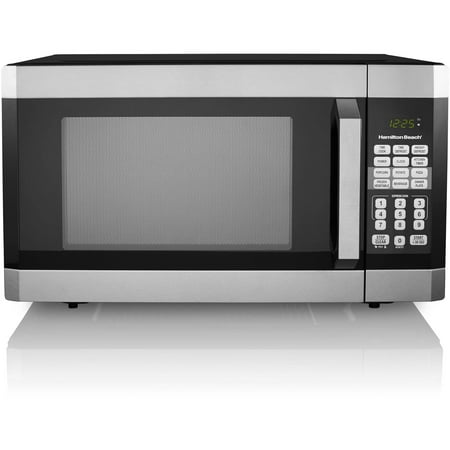 Features:
This is best microwave under $100 for those people who demands for power and size. Good thing about this oven, it can be use in smaller or larger families. 
10 power level setting will make your everyday task easier then ever like reheating the food or defrost the vegetables. But keep this thing in mind, this microwave need some little extra space. 
It has a large LED display and digital clock that is easy to read and operate. Child lock feature is also coming in this microwave that prevent your kids from any accident. Interior of this microwave is made of stainless steel that nonstick which is easy to clean. 
This also has turntable that cook your food evenly and you don't have to stop the microwave to turn the food by hands. 
User friendly control panel.
Child lock safty feature.
LED display with digital clock.
Non-stick solid interior.
No mute mode and quite noisy.
What Should Consider Before Buying the Best Microwave under $100?
You must consider the following points before buying any microwave because these cheaper microwaves look good but after buying these they might be your headache. 
Size
Size matters the most in any microwave because if you purchase a microwave without measuring the dimensions and you find out that your kitchen space is small and your microwave is far too big. 
From 0.7 to 1.0 cubic ft. size microwaves are those microwaves that cost you less than $100. These microwave ovens can fulfill your basic needs like heating the leftover meals and microwaving the coffee. 
They are not a good option if you are thinking of cooking whole chicken or turkey in the microwave. 
Power
We all know power is measurable in watts and with higher watts food will cook faster. Professional chefs believe that 1000 watts is the baseline of a good microwave. 
A 700-watt microwave is also a good option because they perform well and they will take care of your wallet too. 
One more thing, if you want to use a microwave for basic stuff like reheating or defrosting the food then 700 watts is a better option. 
But if you have a good budget and want a fast microwave with additional features then you can go with 1000 watts.
Warranty
Everyone wants a warranty on their microwave for at least 1 year, no matter at what price you are purchasing the product. 
But the good news is most of the microwave under $100 out there in the market comes with at least one year of warranty. 
You will hardly need to claim a warranty on your product unless there is a manufacturing fault or unusual breakdown. 
When you operate your microwave as per the manufacturer's instruction manual and service regularly then your product can last long more than expensive models out there in the market. 
Features & Designs
The first thing when you are thinking to buy a microwave or any other appliance that comes into your mind is features and designs that can match your kitchen or home's walls.
 And, the good thing is you will find a child lock system, express cooking, kitchen timer, LED display, sensors, etc in the microwave under $100. 
In this budget, there are many decent-looking microwave options available. A microwave is a simple machine and any appliance always judge on basis of features and functions. 
Frequently Asked Questions for Microwave Under $100
Most frequent questions and answers
Which brand of microwave is the most reliable?
There are many brands in the market but microwaves from Hamilton Beach, Breville, LG, Kitchen Suite, and Panasonic are the most reliable brands. Breville is the only microwave that gains owner trust and satisfaction. Other microwaves have good features but also they have some downsides like poor heating power or excessive noise.
How much should I pay for a good microwave?
Small microwave starts from $50 and the price will increase as per your preference and features. A countertop microwave you can buy from $50 to $500 and the range microwave starts from $150 to 600. And, the Built-in microwave price range begins from $400 to $2000. A good microwave depends on your budget and considerations.
Which microwave oven is best in quality?
Breville, Hamilton Beach, and Panasonic brands offer quality to their consumers, and this is proven in the rating of customers. Those microwaves are the best which offer their customer comfort like you want to reheat your leftover food or defrost the veggies etc. The quality of any microwave also depends on your budget.
Which is the cheapest microwave oven?
Here below is the list of the cheapest microwave oven
Galanz 0.7 Cu. ft. Retro Countertop Microwave Oven, 700 Watts, Blue

 COMFEE' 700 Watt Microwave

Mainstays 700W Output Microwave Oven

Commercial Chef Countertop Microwave​